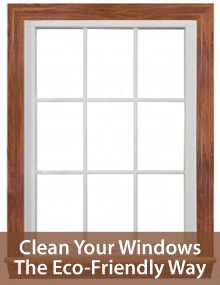 Your home's windows look best when they're clean on both the inside and the outside. It's a quarterly housekeeping chore, at minimum, and should coincide with seasonal changes.
But washing windows can be a drag on the environment. Most homeowners use multiple rolls of paper towels to finish the job, and many commercial window cleaners are chemical-loaded.
Fortunately, there's a way to wash your windows, be environmentally conscious, and still get great results. Here's how to do it.
First, wait for a cloudy day. Cloudy days are best for cleaning windows because sunny days create more streaking; the sun can dry the windows before you've had a chance to polish them.
Next, make your cleaning solution.
If this is your first time cleaning your home's windows, in a spray bottle, mix 8 parts water with 1 part each of white vinegar and environmentally-friendly dish detergent. The dish detergent is a necessary additive because it removes waxy buildups from prior washings with commercial cleaners.
Then, for washings beyond the initial cleaning, in the spray bottle, mix 1/2 teaspoon of vinegar for each cup of water instead.
Next, using reusable microfiber cloths, wash one side of the window with horizontal strokes, and the other with vertical strokes. This way, if there's a streak, you'll know on which side of the window it is.
Lastly, rinse your cloths often in cold water and be sure to wash top-down.
When you're finished, your windows will be clean, and you'll have made a near-zero environmental impact. And remember — you don't have to wash your windows all at one. You can spread it out over time if that's easier.